School Visits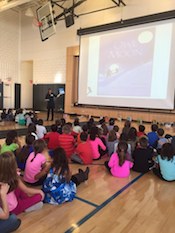 I love speaking to students about writing. In my one-hour program (depending on the ages of the students), I emphasize research, editing, and the process of making a book from the beginning idea and research to the final product. The program includes a PowerPoint presentation that helps illustrate the points I am making, but is the background, not the focal point.
Content:
My program can be adjusted for all grades, pre-K to 6. Pre-K takes on more of a close up story-telling format, on the carpet with the students. Other grade presentations can be in the classroom or auditorium (or anywhere in between). I have been doing this for almost 30 years and am extremely flexible. I can adjust to many variables.
In-Person: $1,500 per day
Up to four (4) hour-long programs for any size group—classroom to auditorium.
Travel expenses are not included and if tickets must be purchased, they need to be reimbursed before the visit. If driving, the reimbursement rate is the IRS standard rate per mile which can be calculated before and invoiced.
Virtual Visit: $350 (one group, negotiable)
Virtual Visits can be tailored to meet the school/library's needs. We can talk about the type of visit in which your school is interested. For example: A focus on birds and owling. Or a focus on the writing process with one book as a read-aloud. Please feel free to work with me to figure out the best content for your curriculum.
Equity and Inclusivity:
I proudly support equity and inclusivity in the world of books and beyond. I am not available for any book events that discriminate against marginalized or underrepresented people, either on the page or off.
CONTACT: heidieys@gmail.com
"Prompt, professional, and prepared…Heidi's presentations were perfect for our Pre-K to 6 students!"

—Amy Benoit, Third Grade teacher, Worcester Arts Magnet School